Meet Dr. Brittney Keller
I love that I can help people, specifically moms and kids to be healthier and have stronger immunity.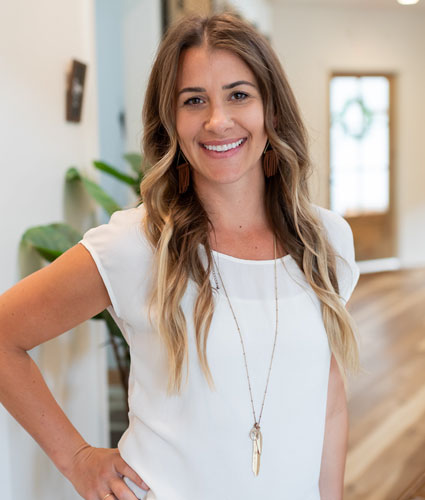 Dr. Brittney grew up riding horses. Raised on a horse farm, she competed in barrel racing. She initially was interested in becoming an equine chiropractor but found out she had to be a veterinarian or "people chiropractor" to be a horse chiropractor. Though she still loves horses to this day, Dr. Brittney knew she wanted to help people, without the use of drugs.
A Chiropractic Education
Dr. Brittney earned a Doctor of Chiropractic from Cleveland Chiropractic College in Kansas City, Missouri. "In chiropractic school was where I discovered what chiropractic was all about. Even as a little kid, I never wanted to take medicine. So chiropractic aligned with my belief and philosophy."
In addition to her doctorate, Dr. Brittney has the following credentials:
Webster Technique certified
Training from the International Chiropractic Pediatric Association (ICPA)
Certification in chiropractic acupuncture
Certification as a BIRTHFIT® specialist
A Desire to Help Others Naturally
When I had a cold and my mom wanted to give me medicine, it didn't make sense to me. It made sense that my body should heal itself and that we shouldn't interfere with that process.
Dr. Brittney wants to help her patients be proactive about being fully functioning and healthy so they can be more resistant to disease. "I'm not seeing sick people all day long, but instead those who truly care about their health. They don't want to just survive but truly thrive."
EXPLORE OUR SERVICES »
As a mom of three little ones, Dr. Brittney is passionate about the health of children. "So much has gone wrong with medicating children; I want to be an advocate for helping those children and equipping their parents to give them what they need." She wants to help give children the best possible start in life.
Having my own kids and realizing how precious, amazing and miraculous they are and how much I love them has given me a passion for helping everybody else's kids too!
Dr. Brittney has grown to understand more and more how health comes from the inside out-from nervous system function and balance. "With chiropractic, we can function at 100% of how God designed us to, free of interference. When there's no interference in the nervous system, it's amazing what our bodies are capable of."
Enjoying Life in Lincoln
When she's not at the practice, Dr. Brittney enjoys spending time with her family on their 20-acre farm. She has five horses and enjoys riding with her kids and competing in barrel races on weekends. The family also likes camping and going to the lake in the summer. A native of Wisconsin, Dr. Brittney enjoys taking a trip there in the summer to spend time with family. Her family and her faith in God are her greatest passions in life.
Contact Thrive Family Chiropractic & Acupuncture today. We'd love to hear from you and answer any of your questions!

Dr. Brittney Keller | (402) 615-6022